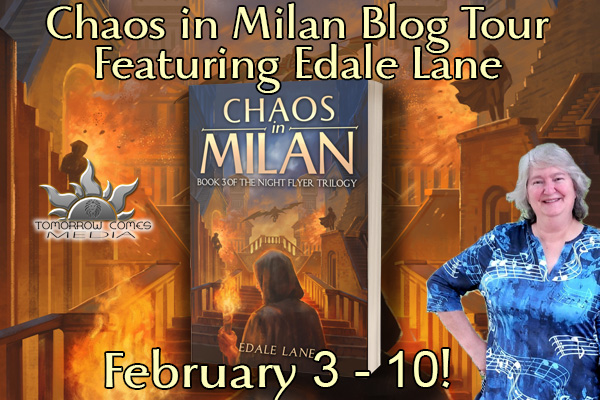 Please welcome Edale Lane to the blog today~~
Living the Life – the author who drives a truck
The cliché about starving artists and writers is not without merit; it is based on cold, hard facts. However, I don't care for living hand to mouth in impoverished circumstances in order to pursue my passion. That is why I retired from teaching public school, which required I work a second job and have no time for writing, to become an over-the-road truck driver.
As the owner of my truck and LLC working with a top-tier trucking company, I earn a healthy income. This allows me money to do things like start my own publishing company, advertise on Amazon, take courses to sharpen my skills, pay for professional cover art, and participate in blog tours. I travel the country, in a new place every day, soaking in scenery that I can use in a description, observing people that may inspire a minor character in a book, experiencing culture differences from my state of origin, and hearing interesting stories that may inspire a line in a novel. Because I live alone, except for a doggie companion, in an 8x8 box for weeks at a time, the job affords me solitude and more time to write than I had when teaching school, grading papers, planning lessons, attending events, and working a second job to make ends meet.
There are, however, drawbacks as well. The hour or two I typically have to squeeze in writing, researching, learning, marketing, and everything else that goes with a writing career, is hardly ideal. It is a blessed miracle that I was able to publish four books in 2020! My schedule is completely up for grabs, as opposed to a work-from-home author or one with a 9 to 5 job. To give you an idea of my life, the first thing that pops into my head each morning as I wake up is, "Where am I?" This job is something different every day and you never know more than a day or two in advance what you'll be doing or where you'll be—sometimes not even an hour in advance. A truck driver must be flexible and ready to go at a moment's notice. I can work up to a 14-hour day, 11 of it driving, 7 days a week for four to six weeks at a time before going home. Not every day is that long, thank Heavens, or I'd be laid out exhausted all the time. Some days are spent sitting all day waiting for a load that isn't ready or waiting for slow people at the warehouse to unload and count everything they took off the trailer. And then there are days like today—waiting for the shop to finish repairs on my truck. Great days for writing, hard on the wallet!
If you are curious about life on the road, here are a few insights. One of the top priorities of the day is secure a place to park overnight, which is often difficult to do. We don't always get to choose what time a load picks up and what time we will set off on our journey. The worst is when you get stuck on a "swing" schedule that puts you trying to find parking late at night when every spot is taken. While I dislike overnight driving, I can rest assured people will have left the truck stops by morning when I need to park. There's also a lot less traffic to deal with, but the treacherous trade off of falling asleep at the wheel is probably the second leading cause of death of truck drivers (with heart attacks due to lack of exercise and obesity being number one). Then there's shower time. Most truck stops give free showers to drivers who have purchased a minimum amount of fuel, otherwise you pay for them. The quality of showers varies, but is pretty consistent among the major chains. I always wear flip-flops anyway, because who wants to take a chance on athlete's foot?
Eating healthy on the road is a real challenge. Diners don't have fabulous food and most truck stops offer a variety of the same fast-food, which consists of lots of burgers, pizza, fried chicken, and Subways. But Subway is healthy, right? Maybe it isn't fried, but there's still the bread, and who wants to eat the same thing every day? I have a refrigerator, plug-in cooler for additional cold items, a microwave, coffee pot, toaster, and George Foreman type grill. I used to take a crock pot on the truck but didn't use it often enough. Some drivers have started using the new air fryers—can't wait to get one! Most Walmart's across the country will allow trucks to park to go in and shop, but have stopped allowing drivers to park overnight because of the trashy nature of some truckers ☹. There I can stock up on fruit, salads, healthy breads, organic soups, and other alternatives to McDonald's.
A discussion of a trucker's life would not be complete without the perils of pottying. Small truck stops and rest areas allow us to park near the facilities, which is great. But at large truck stops, the ones most likely to have an available space, we may have to walk the length of a football field to get to the building. And don't even get me started on "truck parking areas"! There are simply not enough places for trucks to park for our 10-hour breaks, so states use dead rest areas or weigh stations with no facilities at all as truck parking areas. Often we end up on the street or in a gravel lot near our shipper or receiver, once again no facilities. And since Covid started, places won't let drivers inside the building and while some provide a port-o-pot, others don't. It's always a Crapshoot (forgive the pun).
And that is why we get paid so well! Away from home for weeks, sharing the road with terrible drivers, horrendous potholes, winter driving conditions, long hours, uncertain schedules, parking dilemmas, and sitting in waiting rooms when our truck needs repairs. Basically, the job is boring with little to do besides listen to the radio or an audio book all day… unless you are a writer! Then you plot and plan, create and rewrite all in your imagination while cruising down the highway, eager to type it all up once you get parked.
I am pleased with my income from trucking, but I envy those who can write full time and make ends meet. That is my current ambition—to earn enough that I can leave the road behind and make my way as a full-time writer. I miss working in my garden, spending time with my partner, going to church, playing my French horn, and all the things I did when I had a "normal" job. Maybe soon my dream will become a reality, and you can help. Order your copy of Chaos in Milan today; it's a wild ride!
~~~~~~~~~~~~~~~~~~~~~~~~~~~~~~~~~~~~~~~~~~~~~~~~~~~~~~~~~~~~~~~~~~~
Welcome to a great new blog tour celebrating Chaos in Milan, the final book of the Night Flyer Trilogy by award-winning author Edale Lane! Readers of historical thrillers and historical romance will love this triumphant conclusion to the trilogy, with many twists, turns, lots off action, and a rich historical setting.
Explore the writing of Edale Lane, Chaos in Milan, and the Night Flyer Trilogy in this blog tour running February 3-10 with new guests posts, reviews, interviews, and more!
Meet the Author:
Edale Lane is the author of an award winning 2019 debut novel, Heart of Sherwood. She is the alter-ego of author Melodie Romeo, (Vlad a Novel, Terror in Time, and others) who founded Past and Prologue Press. Both identities are qualified to write historical fiction by virtue of an MA in History and 24 years spent as a teacher, along with skill and dedication in regard to research. She is a successful author who also currently drives a tractor-trailer across the United States. A native of Vicksburg, MS, Edale (or Melodie as the case may be) is also a musician who loves animals, gardening, and nature.
Please visit her website at:
https://pastandprologuepress.lpages.co/
About Chaos in Milan:
One woman stands between chaos and order – the Night Flyer.
When chaos strikes at the heart of Milan, it is up to Florentina's alter-ego the Night Flyer to stop it. As Florentina and Madelena's love deepens, so does the well of danger surrounding them. The race is on to discover the mysterious Shadow Guild and uncover who is behind the deadly rampage, but Florentina's mission is threatened by a gang of assassins. Can the Night Flyer prevail, or will Maddie's love be ripped from her arms?
Chaos in Milan is the third book in Edale Lane's Night Flyer Trilogy, a tale of power, passion, and payback in Renaissance Italy. If you like action and suspense, rich historical background, three-dimensional characters, and a sweet romance, then you'll want to complete the Night Flyer saga.
___________________________________
Author Links:
Twitter: @EdaleLane
Official Site: https://pastandprologuepress.lpages.co/
___________________________________
Tour Schedule and Activities
2/3 The Literary Underworld http://www.literaryunderworld.com Guest Post
2/3 Jazzy Book Reviews https://bookreviewsbyjasmine.blogspot.com/ Author Interview
2/4 The Sinister Scribblings of Sarah E Glenn http://saraheglenn.blogspot.com/ Guest Post
2/5 Kim Smith, Author http://Kimsmithauthor.com/weblog Guest Post
2/5 Oohana Children's Church http://www.oohanacc.wordpress.com Video - Interview Response
2/6 Horror Tree https://www.horrortree.com Guest Post
2/7 The Seventh Star Blog http://www.theseventhstarblog.com Guest Post
2/8 Jorie Loves A Story http://www.jorielovesastory.com Review
2/9 Afshan Hashmi https://afshanhashmi.com/books-coming-to-me-from-book-tour-hosts-for-my-analysis Guest Post
2/10 Sapphyria's Books https://saphsbooks.blogspot.com/ Guest Post
______________________________________________
Links for Chaos in Milan:
Amazon:
Barnes and Noble Link:
https://www.barnesandnoble.com/w/merchants-of-milan-edale-lane/1136051210?ean=9781654780197