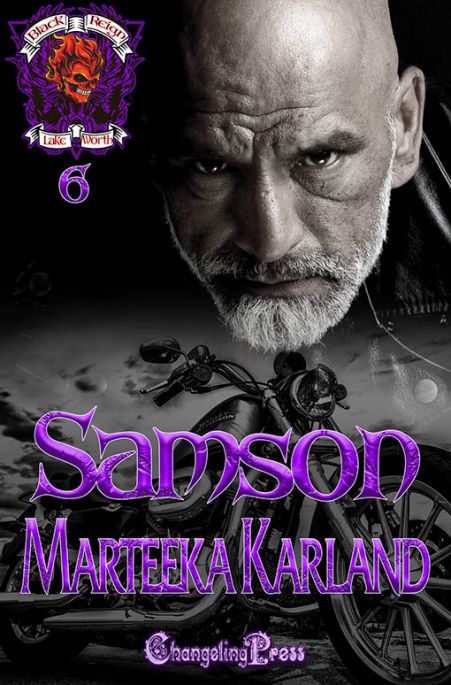 Samson by Marteeka Karland
Contemporary Romance, Suspense, Motorcycle Club, Age Gap
Release Date: February 11, 2022
About the Book:
Charlotte: When I get into trouble, I go big. There was so much pain and fear, I turned my thoughts inward. To Samson. He's my knight in shining armor. The one man I've ever felt a real connection to. Then he was there, killing those who hurt me and sweeping me up in his embrace of warmth and safety. But now he sees me as a victim. Not a woman. It's up to me to prove I'm made of sterner stuff.
Samson: I had no intention of having sex with the little spitfire, but one look at Charlotte and I knew she was trouble. Our night was the kind of explosive a man can't walk away from, but I tried. Right up until her daddy showed up telling me she was missing and the last person she was seen with was one of the prospects from Black Reign. Wrangler, the little asshole, had her squirreled away somewhere and I knew if I didn't find her soon, I might never see her again.
Saving Charlotte from Wrangler will be a piece of cake -- after this his days are numbered. Which leaves me with time. Too much time. Time Charlotte's dad will have to convince her to leave me and come back home. So, how do I fight off another man determined to take my woman from me when that man is her daddy?
Read an Excerpt:
Charlotte
I huddled naked, shivering in the cold damp of the cinderblock basement I'd been thrown into. I had no idea how long I'd been here, but I was estimating at least two weeks. My body hurt all over. The chill made it worse. Also, it had been days since they'd brought me anything to eat or drink, and my stomach was gnawing in protest. Being in a damp basement had its advantages, though. I'd found a source of dripping water to drink. It didn't smell bad and wasn't discolored, but, honestly, I didn't have much choice. It was either drink the water or die. I suspected they were trying to starve me into submission. I could have told them it wouldn't work. I might be too weak to fight them much, but I'd fight to the very end.
There was thumping above me, and I tried to catch a glimpse of the men holding me prisoner through the cracks in the floor and the one grate that looked straight up into the house. Sometimes they would taunt me through that grate. I tried to use it to my advantage. So far, I knew there were at least five different men around this house who were there frequently. There were others, but they were mostly in and out. I suspected drug deals. Any time someone came down to try to rape me, it was always one or more of the five. So far, I'd been more trouble than a fuck was worth, and they'd left me battered and bruised. I suspected their patience was getting thinner.
Yelling followed the thumping. It sounded like there was a fight going on. I couldn't hear much of what was being said because they were too far away from the grate or in an area where there were cracks in the wood flooring.
A gun went off, booming throughout the house. I tried to hold back my whimpers, not wanting to draw attention to myself, but it was hard. Not only was I terrified, but I was shivering from the cold.
When the basement door banged open and a body tumbled down the stairs, I couldn't help my little shriek of terror. Immediately, I moved, getting between two free-standing shelves. They didn't have anything on them, but if I crouched down, I was pretty sure the shadows would hide me. Cobwebs blanketed my skin, making me cringe, but honestly, any spiders crawling on me weren't as bad as the men coming down the stairs.
Strangely, there was no dialogue between the two, just grunts and the sound of a fist hitting flesh as one man was beaten violently and the other one went about the grim task in silence.
The one doing the beating was a monster of a man. Huge. Hulking. I couldn't see much with the only light coming from the open door at the top of the stairs, but he wasn't someone who'd been here before.
"Where is she," he rasped out. His voice was deadly in its softness… and somehow familiar. I wanted to hope. To hang on to the possibility this man had come to rescue me, not to hurt me. Because if he decided he was taking me, there was nothing I could do to stop him. And he could probably kill me by accident with his hulking size. He almost reminded me of…
"Dunno, man." The man slurred his words. "'Spos't ta be don'eer som'mers."
"Charlotte!" the man yelled.
"Easy, Samson. If she's down here, you'll scare the fuck outta her!"
"S-Samson?" I whispered his name, but he must have heard me, because he whipped his head around in my direction.
"Toss me a fuckin' flashlight," he barked. I heard him catch it, then a bright beam of light shone around the basement for a few seconds before landing on me huddled in my hiding spot. I winced and held up my hand to block the light I knew would eventually hit my face.
"Charlotte," he said, his voice softer now. "I need you to come out for me. Can you do that? I'm here. No one's gonna hurt you now."
I inched my way back out of my hiding place, the concrete floor scraping my bare hands and knees. I moved out of the little space slowly. When I stood, I was still crouched, ready to duck away from him if needed. "Samson?" My voice was scratchy from lack of water and from screaming so much over the weeks behind me. "Is it really you?"
Follow the Author on Instagram and Twitter: @MarteekaKarland
Follow the Publisher on Facebook, Instagram and Twitter: @changelingpress
Pre-Order Today https://amzn.to/3HE3txY