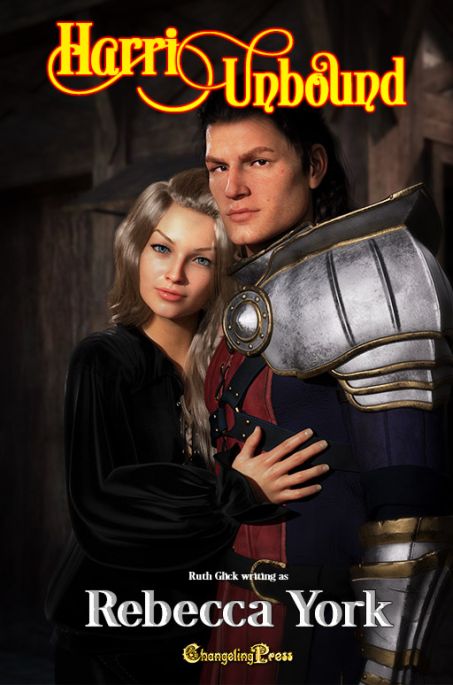 Harri Unbound by Rebecca York
Dark Fantasy, Paranormal Romance, Suspense
Date Published: May 27, 2022
About the Book:
When the ruthless magician Madrin dies, opportunists seek revenge for his cruelty. They kidnap his daughters, meaning to sell them into sexual slavery at a brutal club for sadistic, wealthy men. Lady Harri Madrin manages to escape before the doors close behind them and vows to rescue her sister, Morgan.
Gareth Lamb, the handsome son of a local merchant, finds Harri and hides her from her furious pursuers. When she begs him to help rescue her sister, he agrees. They decide to pretend she is his concubine so they can gain entry to the club to search for Morgan.
The master-slave charade forces them into sizzling erotic encounters. Soon, they fall in love, but Gareth knows he could never aspire to marriage with the high-born Lady Harri.
Though Harri's magical abilities give them an edge, they're badly outnumbered by the slavers. Even if they manage to rescue Morgan, will Gareth's disapproving father disown him if they declare their love and attempt to marry?
Read an Excerpt:
All rights reserved.
Copyright ©2022 Rebecca York
Harri Madrin woke in her narrow bed in the dark hours of the night. For a moment she thought she might be dreaming -- until she realized there was some sort of disturbance in the convent, something she had never heard in this place of tranquility.
With moonlight streaming through the narrow window, she slipped across the stone floor of the small chamber to where her sister still slumbered. "Morgan, wake up. Something bad is happening."
Her younger sister's eyes blinked open as the sound of rough male voices came closer. Men in the convent? Never, unless there was some task that the vestals could not accomplish on their own. And never at night.
Sister Matilda rushed into the room. "Hurry, you must hide! They are after you." She had always been kind to them, and now her wrinkled face was full of fear.
"Who? Why?"
"For revenge. Your father is dead."
Harri felt nothing for her sire besides a flood of relief. In all her eighteen years, she had feared her father, the magician, Madrin. Now he would no longer rail at her for being born the wrong sex -- and for not inheriting any of his powers. Or so he thought. He was incorrect about the latter, but she had kept that knowledge from him, unwilling to give him the satisfaction of her talent. It was the same for her sister, Morgan.
"You must hide before they find you." Sister Matilda urged.
"But where?"
"Come with me," she pleaded.
"We must dress," Morgan protested.
"No time." The elderly vestal ushered them out of their room. The stone floor was cold on their bare feet as they followed the sister to a small chapel. She led them up the aisle to the front of the room, then removed two candlesticks and opened the top of the altar where they saw a deep cavity under the horizontal surface.
"In with you."
The girls climbed into the box, curling on their sides and scrunching down to fit into the space.
"I will come back for you when it's safe," Sister Matilda promised before lowering the lid. The sound of metal hitting wood told Harri she had replaced the candlesticks.
Harri moved in the cramped space, trying to get comfortable. She froze when a rough male voice demanded, "What have you done with them?"
"Nothing."
"You're lying, you old bitch."
"You dare such sacrilege?"
"You are no better than Madrin, sheltering his demon's spawn."
The words were followed by the sound of a hand slapping against flesh. Sister Matilda cried out in pain.
"Where are they?"
There was no answer, but Harri heard something hitting the floor. She crammed her fist against her mouth as she struggled not to scream.
Outside in the chapel, a whirlwind of destruction erupted -- heavy pews being tossed about, glass breaking. And then silence.
Harri trembled in their hiding place, and she could feel her sister's similar vibrations.
Footsteps approached the altar, and she struggled to keep her teeth from chattering. A sweeping noise sent the candlesticks clattering to the stones. The top creaked up, and Harri cringed away.
"And what have we here?"
About the Author:
New York Times and USA Today Best-Selling Author Rebecca York began her career as a journalist writing articles for newspapers and magazines, but after several years decided to try writing fiction. She's a highly successful author of over 50 romantic suspense and paranormal novels and is the head of the Columbia Writers Workshop. Her many awards include two Rita finalist books. She has two Career Achievement awards from Romantic Times: for Series Romantic Suspense and for Series Romantic Mystery. Her Peregrine Connection series won a Lifetime Achievement Award for Romantic Suspense Series. She collects rocks, and enjoys cooking, walking, reading, gardening, travel, and Mozart operas.
Follow the Publisher on Facebook, Instagram and Twitter: @changelingpress
Pre-Order Now: https://amzn.to/3yTqb3I